A late-comer to the Louisville Hot Dog Wars of 2008, Conez and Coneyz really holds its own adding great quality hot dogs and amazingly creamy ice cream to the mix. They opened this Summer at a great location on Frankfort Avenue near Bayly Ave (near Heine Brothers) and from what I heard while talking to one of the über-friendly owners, had a great reception during the warmer months. Based on their quality, the winter months should keep them busy as well!
Conez and Coneyz has quite an extensive menu. It took me a while to figure out which of their creations to try first. They offer a lot of options that the other Hot Dog places in town can't touch, including safe options for our vegetarian/vegan friends:
Hebrew National – "All Beef…No Butts!"
Kowalski – The best non-kosher "Snap Dog" in a natural casing
Stadium Kielbasa – Polish sausage that fits the bun!
Chicken Sausage with Spinach & Asiago Cheese
Loma – Linda Vegan Hot Dogs
Cedar Lake Veggie Franks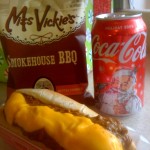 I went with the standard Chili Dog ($3.25) which was far from standard. The Hebrew National Dog was topped with authentic Coney Island Chili that was really meaty with just the right kick. I got it without onions and mustard and added "cheeze" for an additional 50¢. The "cheeze" was pumped out of a nacho cheese pump, which is standard fare, and fine by me (although a high-quality shredded cheddar would have been a nice touch). With a side of Miss Vickie Smokehouse chips (95¢) and a can of Coke, it surprisingly turned out to be a filling lunch with enough room to sample their ice cream (which they claim is the best in Kentucky!) More on that in a minute!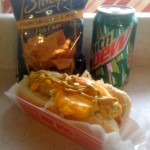 Oscar, being the team player that he always is, ordered something different to make the review more diverse. What a trooper! He chose the Junkyard Dog ($3.25)  The Kowalski Dog (shipped in from Michigan) was topped with Sauerkraut, swiss cheeze, a sprinkling of celery salt and finished with spiced mustard. He said the Hot Dog had that trademarked "snap" to it when you bit into it. The sauerkraut added a great acidity balanced out a bit by the creamy swiss cheese. He got a side of Garlic Pita Chips (one of my favorites) and a drink and also mentioned how filling it was.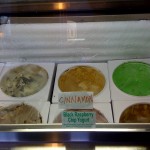 The whole time we waited for our food, I was perusing (and sampling) their ice cream selections. Even on a cold day in December, ice cream is a good thing, right? All of the samples he let me try were excellent, but I ended up going with one of their seasonal flavors, Peppermint in a sugar cone. I really could tell the high amount of butter fat in this ice cream, maybe because that's what is so highly touted about their ice cream, but it was smooooove. There was also plenty of crushed candy canes, but not enough to overpower. Oscar, again taking one for the team, got the Moose Tracks (or something similar – Nuts -n- stuff in chocolate ice cream) in a waffle cone. He had no complaints.
Even with the sometimes cringe-inducing "Cheezy" jokes in the menu, this place is for serious hot dog and ice cream connoisseurs. They have a wide enough selection of both to keep you coming back for more, unless you're a creature of habit like me, and stick with the "weiners". (The jokes stick with you, too!)
Rating: 8/10
Address: 2716½ Frankfort Ave  |  Louisville, KY 40206
Phone: 502-897-7222
Website